Terrocotta Army is a world-famous wonder in Xian, but I luckly visited another wonder of the ancient China –Hanyangling Mausoleum (its official name is Han Yang Ling Musuem) which is on the way to Xian airport, north of Xian city.
In Han yangling Mausoleum, there are also many lines of armed vivid warriors, rows of undressed maids, hordes of pigs, horses, sheeps,dogs, and chickens (the ancient chicken quite likes the pigeon nowadays). These reveal the true social life and palace culture of Han dynasty (2200 years ago). Amazing and shocked!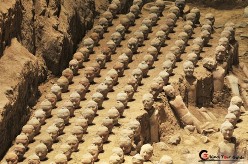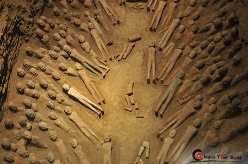 Actually, all of these are the grave goods of Emperor Jindi (188BC-141BC, also named Liu Qi)and his Empress. Emperor Jindi, together with his father Emperior Wendi, opened a golden era of harmony in 2200 years ago, which was famously regarded as "the Great Reign of Wendi & Jindi" in China history. 
I visited the Hanyangling Museum through a special glass tunnels in the giant underground royal tomb, which is a special experience because you could see all the grave goods including terracotta army under your foot. I felt that I just walked into a time tunnel and back to a magnificent empire more than two millennia ago.
I have to mention that all the terracotta soldiers, maid (no matter male of female) are naked and lack of arms. The archaeologists conclude that they dressed silk clothing with wooden movable arms for wearing before, but the silk clothing and wood arms were decomposed in the 2200-year long periods.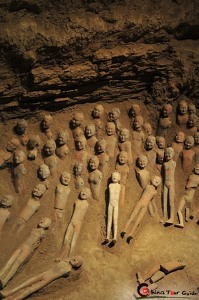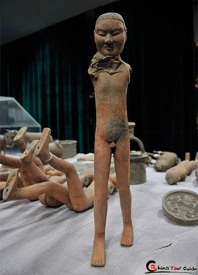 Compared with Emperor Qin Shihuang's Terracotta Warriors in the same city, the Hanyangling Mausoleum's terracotta warriors are much short. The archaeologists also conclude that the Emperors in Han Dynasty were from south-eastern China and those people like small but delicacy goods.
Fortunately, I had a chance to visit the "Antiques Restoring Room" in the Hanyangling Museum and personally saw how the archaeologists restore the excavated antiques. How luck I was!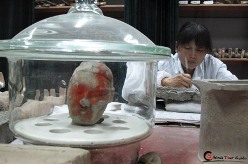 If you enjoyed this post, please consider to leave a comment or subscribe to the feed and get future articles delivered to your feed reader.