China's Grand Canal and one part of the ancient Silk Road were both inscribed on the World Heritage list by the World Heritage Committee, which brings the total number of China's World Heritage Site to 47.
Grand Canal
As the oldest and longest artificial waterway in the world, Grand Canal was the most wide-range civil engineering project before the period of Industrial Revolution, boosting the exchange of northern and southern areas. It flows from the northern Beijing to the southern Hangzhou with hundreds of thousands of ferries for over 2,500 years. The portion in Suzhou serves as the most convenient traffic web that covers the whole city.
Regarded as one of the two greatest ancient projects in China (together with the Great Wall), Grand Canal is a masterpiece of water-conservancy project which still plays an important role in transportation, logistics, irrigation, flood control and water supply until now. It additionally sees high historical and cultural value. So many significant events, touching stories and lead-to-imagine legends happened along the long canal within 2500 years that traveling through it takes you back to the past and leads you towards the present to appreciate the changeable landscapes, seek the colorful historical remains and cultural relics, and experience the diversified social customs.
Silk Road
With the increasing attention of the ancient route between China and Europe from the international community, the part of Silk Road in China is recognized on the UNESCO World Heritage site list as an international joint project. Passing through China, Kazakhstan and Kyrgyzstan , the land Silk Road is one of the biggest World Cultural Heritage areas in terms of geographic distribution and is the first one co-owned by China and other countries.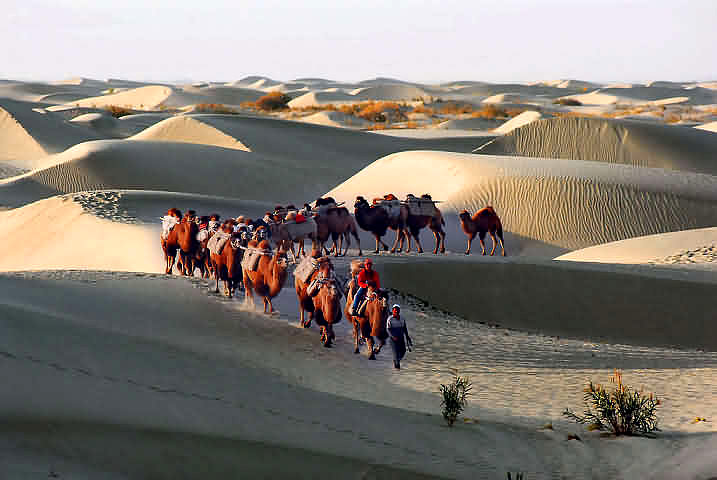 As the Silk Road on the sea which started from Guangzhou and passed Southeast Asia, it witnessed the exchange of economy, culture and society between Asia and Europe, promoting the trade development, religious spread and city planning. The part of Silk Road in China goes through three provinces – Shaanxi, Gansu and Xinjing, adorned with a series of spectacular natural views and human landscapes. Each city situated in the route of Silk Road is endowed with wonderful attractions, colorful history and distinctive culture.
If you enjoyed this post, please consider to leave a comment or subscribe to the feed and get future articles delivered to your feed reader.