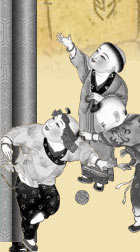 Inside China
Arts
History
Pandas
People
Shopping
Thought
Home>> Payment Method - PayPal
Complete your purchase with PayPal
•
PayPal is free for buyers.
•
PayPal is accepted on almost all eBay listings.
Over 90% of items listed for sale on eBay.com accept PayPal as a payment method.*
•
Shop without sharing your financial information.
PayPal enables you to pay without the seller ever seeing your bank account or credit card numbers.
•
Free PayPal Buyer Protection.
When you use PayPal to pay for a qualified listing on eBay.com, PayPal Buyer Protection provides free coverage up to $1,000 USD.
•
No credit card needed until you're ready to pay.
Credit card information is not required to sign up for PayPal. This information is only needed when you're ready to pay for an item.