Restaurants all over Beijing serve this signature dish. However, the roast duck in Quanjude Restaurant is said to offer the most genuine Beijing Duck. This Beijing specialty is rolled in thin tortillas with hoisin sauce, spring onions, and cucumbers. Going out for a meal of roast duck is an event to remember, with special chefs wearing tall, crisp white hats carving the duck at your table. The best chefs usually pare Beijing Duck into very thin crispy slices. Nearly every part of the duck can be prepared as food. The Quanjude restaurant serves the so called "All Duck Banquet", in which the duck 's bones are boiled along with cabbage and Chinese water melon to make a fresh soup which is served at the end of the
Imperial Court Feast
Imperial Court Feast originates from royal kitchens where especially rich dishes were carefully prepared and cooked exclusively for the royal family. After the fall of the Qing Dynasty (1644-1911), imperial court cuisine became popular among the common people, who took a special delight in finding out what they had been missing out on. The banquet featured many of the world's edible delicacies from land and sea such as famous mushrooms and fungi, choice vegetables, and fruit. Quality was the key selection criteria, and only the best materials were chosen. A case in point is the preparation of the roast suckling pigs. Only piglets weighing between 12 to 13 kilos (28 to 33 pounds) were used. These had to go through a three to four day fattening process where they ate only porridge so that the pork would be tastier. Much importance was placed on the choices of tableware, rituals, and all other forms of table etiquette. Many restaurants serve Court Cuisine in Beijing today, such as Fangshan and Tingliguan restaurants.
Mutton Hot Pot
Mutton Hot Pot, also known as Mongolian hotpot, is inherited from the Mongolian roots of the Qing Dynasty. It is known for its large variety of ingredients and seasonings, such as paper-thin mutton slices, sesame jam, leek sprouts, bitter shrimp oil, frozen bean curd, dried rice noodles and fresh vegetables. When the banquet starts, diners sit around the table and put the mutton slices into the boiling soup, already seasoned to taste. Once the red mutton slices turn light brown or gray, you can eat them along with sesame jams. This cooking process takes just a few seconds, so be careful not to overcook them or it with damage the flavor, tenderness, and nutritional value of the mutton. Hot peppers and pickled garlic can be added to the sesame jam according to the personal taste of the diner.
Chinese Dumpling (Jiaozi)
Jiaozi, the traditional crescent shaped Chinese dumplings filled with meats and vegetables, are a "small delight." These tasty munchies are a feature of Northern Chinese cuisine. For those fortunate enough to get an invitation to dinner with a local family, jiaozi will most likely be on the menu. Jiaozi parties are fun social events where friends can visit prepare a feast together. Sometimes local families invite foreign visitors to join these parties, which can be a great introduction to Chinese culture and cooking.
It is said that there are over two hundred kinds of snacks in Beijing such as Quick-Fried Tripe, Boiled Sheep's Head, Pancakes with Meat-Fillings, Sugar-Coated Haws, Roast Sweet Potato, Shish Kebab, Roast Mutton, and Sticky Rice with Sweet Fillings. The local Beijing people, especially elder ones, especially enjoy Mung Bean Milk, Fried Liver and Filled Sausage. Many of these tasty snacks don 't have suitable translations in English, but you can simply wander down some of the numerous snack streets to see for yourself which ones you would like to sample. Even if you aren 't quite brave enough to try, the stroll will be certain to provide plenty of good entertainment and you never know what kind of local delicacy might wet your tongue!
Just about every corner of Beijing holds good restaurants, but some areas are especially well known as exceptional dining havens.
The Rear Lake (Houhai)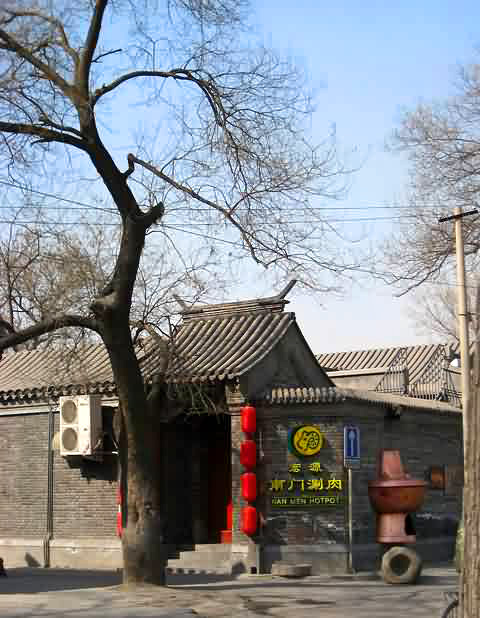 Restaurants and bars are scattered along the sides of a serpentine lake north of the Forbidden City. At the very center of Beijing, it makes a great place to sit back and enjoy the views, particularly at night when the lights glisten off the water. Restaurants here offer a range of Chinese and foreign cuisines, including Hakka cuisine from south China, spicy Sichuan and Yunnan dishes, light Vietnamese and heavier Russian food. Most of the restaurants offer a cozy dining environment. Many have a lake view, some set up tables in the open beside the water, and a few even offer boats for dining on the lake itself.
South Gong and Drum Lane (Nanluoguxiang)
The south-north lane, about 800 meters (0.5 miles) long and quite narrow in places, is about a block east of Houhai, and is said to have been established more than 700 years ago. Many restaurants here are hidden in small and quiet traditional courtyards (siheyuan), offering a good experience of life in old Peking on idle Sunday afternoons. However, the cuisines offered are new, and you can sample a selection of East-West fusion foods, such as Kung Pao Chicken pizza. There is also an authentic Chinese yoghurt sweet shop. Many restaurants here have English and even French menus, catering to visitors who like to browse the lanes quirky shops.
Ghost Street
The 1.4-km-long (1 mile) east-west street in eastern downtown Beijing was used for peddlers who sold groceries 60 or 70 years ago. The night fair usually started at midnight and ended in early morning. The peddlers, who were dimly lit by kerosene burners, looked like ghosts. In order to bring good luck, the Chinese character for ghost was replaced by another character of the same pronunciation, which stands for a food basket. Dozens of restaurants stand on both sides of the wide street and the busiest time is between 6 p.m. and 4 a.m. The dining is cheap, the food is good, and the restaurants stay open late, making it popular with Chinese. Spicy foods set the tone. Several old restaurants here are well known for dishes such as hot and spicy crayfish, and roast fish with chili sauce. Don't bother dressing up. Shorts and slippers are okay. Also, don't be timid about speaking loudly as you may have to compete with guests at tables next to you for the waiters ' attention.
Donghuamen Night Food Bazaar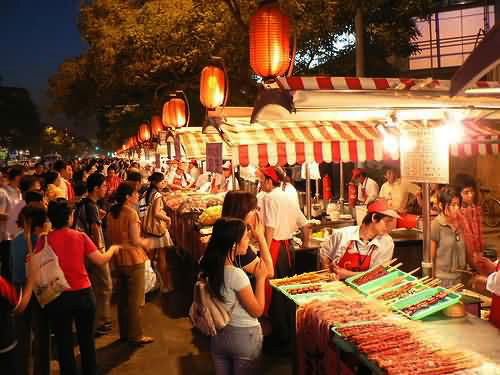 Hemmed in by food stalls, this short street is renowned for its snacks from Beijing and other parts of the country, and conveniently located near the Wangfujing shopping area. The snacks sold can be scary, fitting with the stereotype that Chinese eat anything that moves. There are baked bugs and scorpions on a stick. More conventional are roast mutton skewers, fried dumplings, sugarcoated fruit, yellow pea cakes, fried flour tea, fried ice cream, and boiled beef tripe served with sesame paste. There are few seats and the novelty comes from eating while watching your next order being cooked. It's not for the queasy or hygiene-obsessed: these are street foods, cooked and eaten on the street.
Worker's Stadium and Sanlitun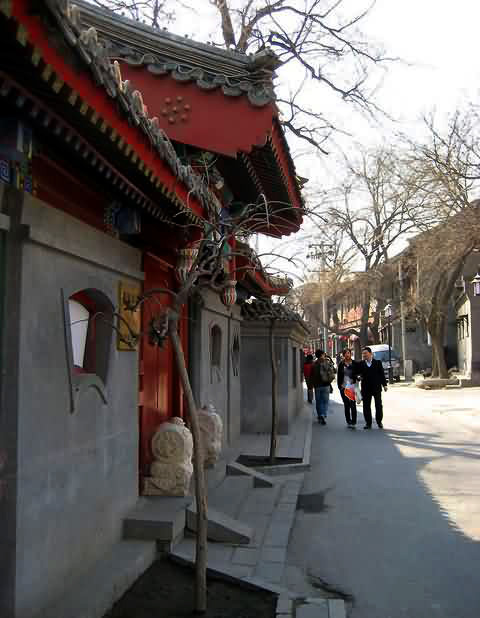 Near the heart of Beijing's diplomatic area and Central Business District, the restaurants cater to the up market white-collar crowd. The Worker's Stadium complex, a rare piece of green land in the city's downtown, has a range of restaurants inside the complex nestled among its gardens, but you'll pay for the setting. Outside the complex, along Sanlitun road, Beijing's famous bar street, and in the area east of it, you can find high-end Cantonese, Taiwanese, Middle East, Thai, Japanese, and French eateries. Some offer performances as well.