Dear HRC ChinaTourGuide,
Thank you for your help with the Yangtze cruise, it was wonderful & so spectacular. The crew on the ship were friendly and made us welcome, we were the only 2 English speaking on the cruise, but this was not a problem at all. The Chinese people were very kind and friendly
-- Mr. Hodge (Australia)



Victoria Selina (Star)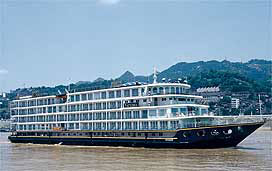 Victoria Selina (Star) is a recognized ship with good reputation and popularity. The high ceilings and elegant decor throughout the ship's interior ensure that passengers will sail in comfort as they experience the scenery, history and culture of the Yangtze.
The Yangtze River Cruiser is well-equipped. Passengers will have on-board internet access, international cable television in living quarters, and international phone service available aboard the ship.
Victoria Selina (Star) also boasts beautifully furnished cabins and suites with marble bathrooms, king-size and comfortable beds and private balconies for viewing the scenery of the gorges.
Cruise Routes
Downstream itinerary for 4 days and 3 nights

From $409


| | |
| --- | --- |
| Day 1 | Boarding the ship from 17:00 to 19:00 and departing Chongqing at 21:00. (Dinner is not included) |
| Day 2 | Traditional Chinese Tai Chi. Shore excursion to Shibaozhai. Optional tour to Fengdu Ghost City (RMB 295/person). Captain's Welcome Dinner. Victoria Costume Show. |
| Day 3 | Traditional Chinese Tai Chi. Sailing through Qutang Gorge. Shore excursion to Goddess Stream. Sailing through Xiling Gorge. Farewell Buffet. Optional tour to White Emperor City (RMB 295/person). |
| Day 4 | Buffet breakfast onboard. Disembarking at Maoping pier of Yichang. Shore excursion to the Three Gorges Dam Site. Take a bus to Yichang and farewell to Yangtze. |
Upstream itinerary for 5 days and 4 nights

From $409


| | |
| --- | --- |
| Day 1 | Arriving at Maoping Pier from Yichang to board the ship. (Dinner is not included) |
| Day 2 | Traditional Chinese Tai Chi. Optional tour to the Three Gorges Tribal Scenic Spot (RMB 260/person). Shore excursion to the Three Gorges Dam Site. Sailing through Xiling Gorge. Victoria Costume Show. |
| Day 3 | Traditional Chinese Tai Chi. Sailing through Wu Gorge. Shore excursion to the Shennong Stream. Sailing through Qutang Gorge. |
| Day 4 | Optional tour to Fengdu Ghost City (RMB 295/person). Farewell buffet. Fairwell party. Shore excursion to Shibaozhai. |
| Day 5 | Arriving in Chongqing at 9:00. |
Onboard Facilities
| | | |
| --- | --- | --- |
| Banquet Hall | Bar / Café | Beauty Salon |
| Business Center: Internet, Fax, Copying, Printing, International Telecom | Central Air conditioning | Children's Playroom |
| Clinic | Conference Hall | Dancing / Disco |
| Gym | Jacuzzi | Karaoke |
| Massage | Meeting Rooms | Observation Decks |
| Restaurants – Chinese and Western | Sauna | Service Desk with Safety Deposit Box |
| Shops | Sun Deck | Wheelchair |