China is now a society with highly developed business senses, and many tourism itineraries are delicately designed under such circumstances. But we HRC commit ourselves to another realm – providing our customers with tourism itineraries of natural ecology and folk customs with the most original tastes rather than marketed performances. We pursue to lead tourists to a most genuine China, and at the same time help to preserve and develop local culture and customs of every destination.
Zhuang People Singing Their Charming Folk Songs
With the purpose of guiding tourists to a genuine China, we HRC give full consideration to local features and personalized tourism needs, design every detail of each itinerary and take control over the whole journey. We will ensure the quality of your transportation, tour guide, itineraries, dining and accommodation when offering you personalized experience of the local featured culture and lifestyle. Therefore, we develop our core concepts of our service as Small Private Tour and Tailor-made & Customized Tour.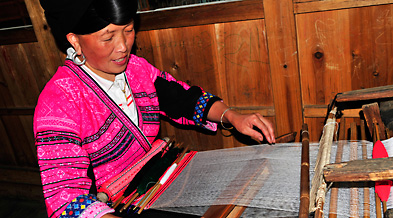 Local Miao People Weaving
We believe that the greatest joy of tourism lies in real participation. When designing an itinerary, we are dedicated to seeking for participatory local activities rather than commercial ones, thus tourists are able to experience the real local culture and customs.
Guizhou Sisters' Meal Festival
Food culture is an essential part of Chinese culture. Due to the different geographic environments, Chinese food culture is also diversified. We arrange local restaurants with utmost care in order to satisfy our customers' slavering mouth.
Cantonese Cuisine
To ensure you with a safe China tour, all itineraries are carefully investigated and confirmed beforehand for security purpose concerning details like routes, time, location, environment and transportation. For exploration itineraries to some risky areas, we will also provide enough safety tips and precautionary measures.
TWe have established corporation relationships with business partners nationwide, thus guarantee our customers with timely services. We also promise:
Flexibility to change itinerary or add activities.
No forced shopping trips or no-shopping trips.
24 hours contacts for worry-free service.
Experienced guide and driver – we always arrange experienced driver and qualified tour guide for you.