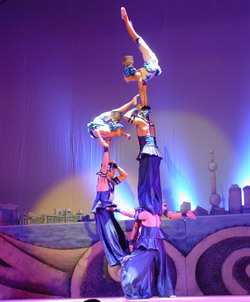 ERA, a multimillion-dollar stunning acrobatic extravaganza, is a multimedia odyssey which is a perfect blend of traditional Chinese acrobatic arts and modern technology. "Intersection of Time" is its theme, dramatized by the amazing and magical show by means of high technology, which tells of a fascinating story through a constant collision among the past, the present and the future.

As ERA consists of many exciting elements, including acrobatics, dances, dramas, music, martial arts, etc., not only will the audience be amazed by the acrobats' control and precision, they will be enchanted by the world that is created through the use of multimedia, technology, lighting and sound effects, elaborate costumes, original live music and a lot more.

ERA is a thought-provoking love story, yet it is also contemplation across the millennia, a fascination with that other dimension man has yet to conquer: time. ERA's acrobats are on a quest to find that tenuous point of balance, the intersection between X, Y and Z. As such, ERA can remain universal, without language or cultural barriers. A thousand-year-old gesture is worth a thousand emotions, a thousand images, a thousand words...
ERA Acrobatic Show is performed at Shanghai Circus World, being named as "Chinese No.1 Circus City", which is another significant building of Shanghai International Culture City with unique in architectural shape and with a golden dome-like roof. It has the acrobatic field as the main building, rehearsal auxiliary building, animal room and commercial cultural city as necessary installations. Total with 1672 seats, the acrobatic ground is a professional integrated and multi-functional place for acrobatical show.
Address: Shanghai Circus World, No. 2266 Gonghexin Road, Shanghai