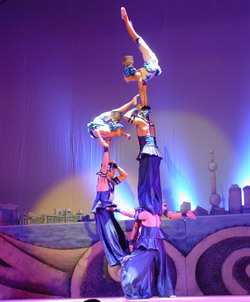 ERA, a multimillion-dollar stunning acrobatic extravaganza, is a multimedia odyssey which is a perfect blend of traditional Chinese acrobatic arts and modern technology. "Intersection of Time" is its theme, dramatized by the amazing and magical show by means of high technology, which tells of a fascinating story through a constant collision among the past, the present and the future.

As ERA consists of many exciting elements, including acrobatics, dances, dramas, music, martial arts, etc., not only will the audience be amazed by the acrobats' control and precision, they will be enchanted by the world that is created through the use of multimedia, technology, lighting and sound effects, elaborate costumes, original live music and a lot more.

ERA is a thought-provoking love story, yet it is also contemplation across the millennia, a fascination with that other dimension man has yet to conquer: time. ERA's acrobats are on a quest to find that tenuous point of balance, the intersection between X, Y and Z. As such, ERA can remain universal, without language or cultural barriers. A thousand-year-old gesture is worth a thousand emotions, a thousand images, a thousand words...
ERA Acrobatic Show is performed at Shanghai Circus World, being named as "Chinese No.1 Circus City", which is another significant building of Shanghai International Culture City with unique in architectural shape and with a golden dome-like roof. It has the acrobatic field as the main building, rehearsal auxiliary building, animal room and commercial cultural city as necessary installations. Total with 1672 seats, the acrobatic ground is a professional integrated and multi-functional place for acrobatical show.
Address: Shanghai Circus World, No. 2266 Gonghexin Road, Shanghai
Show Time: 19:30 (usually lasting about 1 hour and 40 minutes), Daily
Highlights: Chinese traditional acrobatic arts with modern high technology, plus dance, drama, music, martial arts, etc.
Acrobatic Show Name: ERA - Intersection of Time
Price Includes: Ticket fee + Guide + One-way transfer between hotel and theater
Shanghai ERA Acrobatic Show (19:30 - 21:10)
Ticket Class
VIP-Class
A1-Class
A2-Class
B-Class
Area (as below)
Orange
Yellow
Light Green
Dark Green
Price for one person
USD 190
USD 126
USD 111
USD 99
Pay by
Please see the below image for seat arrangement.
After you select a ticket class in above table, later you shall select show date & time and submit your information, then make payment online by Paypal, then you will get a ticket confirmation voucher in 12 hours.
Services Include:
Telephone Confirmation:
The price includes ticket fee, tour guide and one-way transfer service between your hotel and the theater (Hotel pick-up or theater pick-up is up to you).
Our tour guide will call to your hotel one day prior to the show date, usually about 10pm, to make confirmation. If you are not in the room, we will leave a note or voice mail at the reception desk.
100% Refund Guarrantee:
How to go back to the hotel after show?
Thousands of our clients have paid through PayPal to book tickets in this way. In case when we find out the tickets have been sold out on the day you required, we guarantee to send 100% refund to your Paypal account immediately.
If you don't need a theater pick-up service, our tour guide will leave after sending you to the theater. After the show, please take a taxi back to the hotel by yourself. This cost is not included in our quotation. If you need the driver and tour guide to wait for you, please tell us when you book the ticket, an extra cost will be informed.
Want to cancel the booking?
Want to change the show date?
No cancellation fee if you change or cancel the booking 48 hours prior to the show day. We will send the refund to your paypal account minus the transaction fee.
If you cancel the booking in 48 hours, there is no refund to you, because the theatre will charge us 100% of the ticket cost.
Please inform us 48 hours prior to the show day, we will check the availability for seats, tour guide and driver and contact you as soon as possible. But if we can not change to another day you required, we will recommend another day, or send the refund to your paypal account as required.
Can I book ticket only?
Urgent Booking:
It's not permitted to book a ticket only. The theatre only issues ticket 30 minute prior of the show time on show day, and requires a tour guide to accompany the guest to enter the theater.
You can directly contact us by Email or call 0086-20-22822388 or 37251788 to make a urgent booking.
There are discounts for over-2-person group, for more details please contact our trip advisor.