Home >> China Tours >> 72 Hour Visa-free Tours
72H Visa-free Tours in Beijing, Shanghai, Guangzhou, Chengdu, etc.
Goooooood News ! Beijing and Shanghai start a 72-hour visa-free stay policy for citizens of 45 countries from Janurary 1, 2013. Following is Guangzhou that will execute the same policy from August 1, 2013. Chengdu is the next city starting from Semptember 1st, 2013. Recently Xian has offered international transit passengers 72-hour visa-free stays from April 4, while Guilin has also been added into the list in June. Thus tourists holding third country visas and plane tickets can apply for a transit without visa (TWOV) in the capital city at Beijing Capital International Airport, Shanghai Pudong or Hongqiao International Airport, Guangzhou Baiyun International Airport, Chengdu Shuangliu International Airport, Xian Xianyang International Airport and Guilin Liangjiang International Airport.
So what can we take full use of these hours before we leave China? Let us see!
One-day Peking Style Tour
What a Beijing local resident does every day? Why not just get rid of those so trite tourist attractions and try to be one-day Beijingese?! >>> View more details
Promotion Deal
Beijing Desiring Night at Bar Street
Where is the best place to spend the night in Beijing? A loud voice must be going to Sanlitun or Houhai to have a good drink time! >>> View more details
From $38 Save:$8
Beijing (Peking) Opera Show
As China's national opera, Beijing Opera features fascinating and artistic music, singing and costumes. >>> View more details
From $32 Save: $8
Kungfu Legend Show at Red Theatre
A splendid Kung Fu show, running daily in Red Theater of Beijing, definitely will hit you with the fantastic and authentic Kung Fu. >>> View more details
From $28 Save: $5
Impression Beijing Bus Group Tour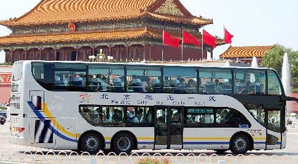 Let us discover Beijing - a stunning blend of ancient and modern, a totally unique destination, by a popular tourist way - Beijing Bus Tour. >>> View more details
From $30 Save:$6
Beijng Green Tour by Subway
Now you just need very small money to join in our subway tours, our private tourist guide will lead you to capture most of Beijing lures. >>> View more details
From $62 Save:$12