Impression Liu Sanjie is an outdoor performance set in real mountains and rivers in Yangshuo County. The stage is a 2km (1.25 miles) stretch along Li River with 12 mountain peaks and the clear sky as the background. The theater therefore was named "Shanshui", meaning mountains and water in Chinese. The performance in this natural Shanshui Theatre is a masterpiece combining an awesome natural stage with excellence in theatrical production.

Unlike performances with traditional artificial stage, here you get a show with natural background. The best stage is Nature's stage. This picturesque scenery has remained almost unchanged for millennia, but now is part of a program not only to entertain you, but also appreciate nature with all of its splendor. Indistinct mountain peaks, reflections in the clear water, misty rain, and bamboo forests along with the sound of animals in their natural environment all vie for our attention and serve as peaceful interludes to the performance itself. You can sit back and relax to enjoy the show and peaceful surroundings while the director and actors bring you an unforgettable night.

It took Mr. ZhangYimou (the chief director of the project) three and half years to finish preparations for launching the show. His talent and creativity in bringing together the hills and water with the minority culture is widely acknowledged. The performance lasts for 70 minutes and more than 600 actors and actresses are involved - All the actors of the show are local people who have practiced meticulously.
| | |
| --- | --- |
| | |
| The representation of the folklore | The stage is set on water |
It's legendary that in the Tang Dynasty, there was a girl named Liu Shanhua living in a little Zhuang people village. Since she was the third child of her family, she was given a nickname of "Liu Sanjie", meaning the third sister of the Liu Family.

Orphaned at an early age, she was brought up by her brother Liu Er. Liu Sanjie was a girl of beauty, intelligence and courage, and especially known for her beautiful singing voice. She used her singing talent to praise freendom and honesty while rebuking tyranny and injustice. Therefore, Liu Sanjie was cherished by the common people but hated by the ruling class.

Once, Mo Huairen, landlord of the village, coveted this beautiful young girl and desired to make her his concubine. Liu Sanjie rejected and teased him by her songs. The embarrassed Mo Huairen hired three pedants, who claimed to know all the songs in the world, to have a contest with Liu Sanjie. With her intelligence and elocuqnce, Liu Sanjie won the contest, singing taunts of Mo Huairen. Ashamed and indignant , Mo Huairen bribed the local authories in the hope of putting her into oppression. In such circumstances, Liu Sanjie and her brother flew away to Liuzhou county for refuge.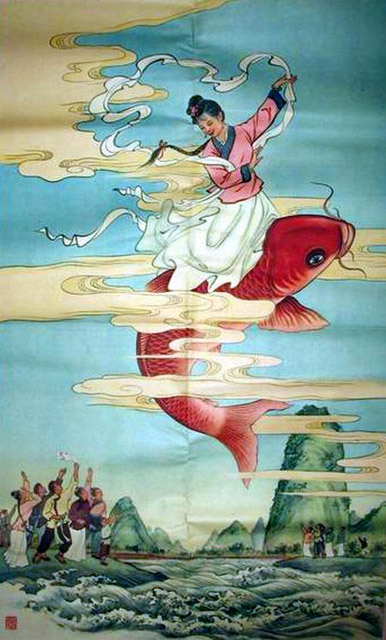 The meek Liu Er was afraid that Liu Sanjie would make troubles again by her songs, therefore came up with an idea to thwart the girl. He asked Liu Sanjie to drill a stone by the corner of a handkerchief. Liu Sanjie felt depress by this Mission Impossible, starting her euphonious voice. Her song was heard by a heavenly fairy, who got moved by the sweet voice and decided to help the girl. Liu Sanjie turned into rapture when she saw the handkerchief drill through the stone. Her merry songs flew round and her name was known by more and more people.

However, the news also came to Mo Huairen and he bribed the local government again to capture Liu Sanjie. Having heard of that, the villagers nearby all came to help Liu Sanjie to fight with the soldiers. In order not to incriminate other people, the girl resolutely jumped into the pond, trying to end the case by her own death.

Just at that moment, a huge golden carp jumped out of the pond with fierce wind rushing around. The carp had the girl on its back and flew to the heaven, where later Liu Sanjie was honored as the Fairy of Songs.

Since then on, the Legend of Liu Sanjie was sung on from generation to generation. Moreover, there is a songfest held on 3rd March of the lunar month every year in commemoration of Liu Sanjie.

"Ballads of Sister Liu Sanjie" was listed as the Intangible Cultural Heritage of China in 2006.
Impression Liu Sanjie is one of the grand open-air shows under the title "Impression" directed by Zhang Yimou, Wang Chaoge and Fan Yue. The plot is a revision of the legendary folklores about Liu Sanjie, a very talented girl for song of the Zhuang people. An experience of this mesmerizing extravaganza will be your unforgettable memory of China.
If you are planning your Guilin/Yangshuo tour and interested in this show, you can surely tell our trip advisors and add it to your itinerary.
Impression Liu Sanjie

Avenue: Shanshui Theater
Address: No.1 Tianyuan Road, Yangshuo County, Guilin
Time:
Normal Period: 20:00-21:00
Weekend & Golden Week: 19:40-20:50 (1st show), 21:20-22:30 (2nd show)

Impression Liu Sanjie
Ticket Class
Standard
VIP B2
VIP B1
Presidential A2
Presidential A1
Rack Rate
USD32
USD38
USD52
USD77
USD110

Notice: The show is unavailable during the winter period.

Since Octorbor, 2011 the official booking office has allowed no travel agency to reserve show tickets alone for their customers. To make it up, here we recommend two most welcomed packages of Impression Liu Sanjie.

Impression Liu Sanjie Night Show Express Tour: Impression Liu Sanjie Show + Round-trip Transfer + Tour Guide.

1 Day Li River Cruise and Impression Liu Sanjie Show: Li River Cruise + Impression Liu Sanjie Show + Round-trip Transfer + Tour Guide.

If you're interested in either package, please contact us with the issue of reservation in advance , or you may run the risk of no ticket available because all the tickets are issued 4 hours prior of the show time!


For seats arrangement, please see the image below.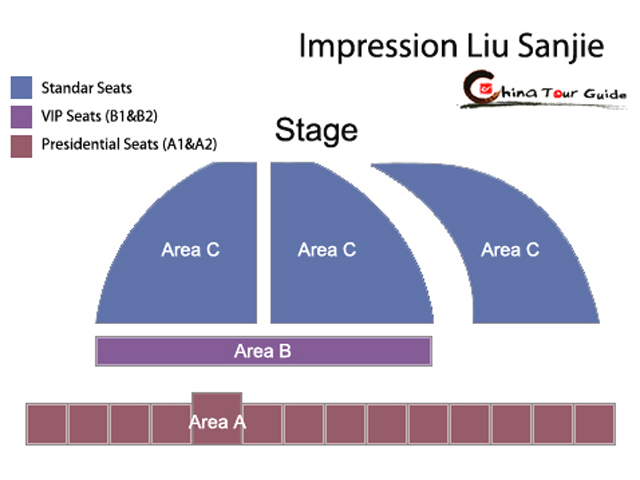 Located at the joining point of Lijiang River and Tianjia River, the theater faces the prominent Scholar's Page Hill across the river. Its auditorium looks like a green terrace with a panoramic vision. Lighting and stereo sets are camouflaged in order to keep the setting as natural and environmental friendly as possible. The auditorium contains 2200 total seats including 180 VIP and 20 presidential.

Unlike Western musicals, the beauty of Impression Liu Sanjie does not lie in the plot, but the combination of natural setting and stage performances. The show is performed by over 600 professional actors/ actresses.
| | |
| --- | --- |
| | |
| A stage of lights with natural background | Impression Liu Sanjie Show |
-- When the lights come up, the performers arrange large pieces of red silk across the lake while others dancing in this background. It is so beautiful!

-- The scale and the background of the show are so amazing! Songs are of ethnic characteristics. It's a very pleasant experience.

-- A show of great number of performers is one distinctive feature of Impression Liu Sanjie. The show is also a wonderful combination of the local culture and theatrics.