Tibet Travel Permits
Chinese law states that foreign travelers shall apply for certain permits before they pay a visit to Tibet. So if you decide to launch your Tibet tour, you have to prepare the following documents in advance:
| | |
| --- | --- |
| China Visa: | You can apply for in Chinese Embassy in your own country; |
| Tibet Entry Permit: | Issued by Tibet Tourism Bureau; |
| Tibet Travel Permit: | It is required if you want to travel to the closed areas in Tibet. You can gain it after you reach Tibet. |

We ChinaTourGuide.com are ready to help you obtain all above documents if you book a Tibet tour with us. Kindly select your favorite Tibet tour packages to start a wonderful Tibet trip.
Tibet Entry Permit
When you book a Tibet tour with ChinaTourGuide.com, you will receive your Tibet Entry Permit from our local office in the city where you leave for Tibet (e.g. Chengdu if by air, Golmud if by Qinghai-Tibet Railway).
You have to present this document when you board the flight to Tibet. We ChinaTourGuide.com will obtain the very documentation for you once you book a tour with us.
How to apply for a Tibet Entry Permit?
Pitifully, Tibet Entry Permit is still unavailable by independent travelers at present. Travelers have to travel in group and ask their travel agent to apply it for every member. Please prepare the following documents before asking your travel agent to apply permit.
1. A copy of your Passport;
2. A copy of your China visa (tourist visa);
3. Full names, Gender, Date of Birth, Passport number, Nationality, Occupation.
Tibet Travel Permit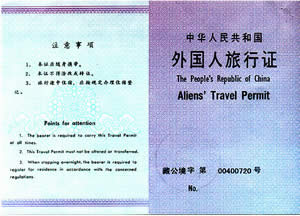 Travel Permit, also called Aliens' Travel Permit (A.T.P), is a must for foreigners to visit closed areas. It is issued by Foreign Affairs Section of the Local Public Security Bureau (PSB). The Law on the Control of Entry and Exit of Foreigners says:

1. Article 20: Foreigners who hold valid visas or residence certificates may travel to places declared open to foreigners by the Chinese Government.
2. Article 21: Foreigners who desire to travel to places closed to foreigners shall apply for travel permits from local police.
Closed Regions of Tibet
At present, you have to apply for a Travel Permit if you are planning to visit the following places:
Note: Lhasa and Nagqu regions are open to foreign travelers and need no Travel Permit.
1. Tsetang: Samye Monastery, Tomb of Tibetan King, Changdruk Temple, Yumbulakhang
2. Shigatse: Sakya Monastery, The Mt. Everest, Rongbuk Monastery
3. Gyangtse: Pelkor Chode Monastery & Kubum Stupa
4. Nqari Region
5. Basumtso lake in Nyingchi Region
6. Chamdo Region
How to apply for Tibet Travel Permit?
We ChinaTourGuide.com will help you to apply for it after you enter Tibet. We will ask you for your passport and the Tibet Entry Permit and submit it to the Foreign Affairs Section of PSB.