Maybe you have seen some Chinese traditional artists with colorful masks performing on TV or other media. Do you know what is that?

In Chinese culture, this kind of facial makeup is a special art in Chinese operas with a long history which distinctly show the appearances of different roles as well as their dispositions and moral qualities by means of artistic exaggeration combined with truthful portrayal and symbolism. Also different opera masks can express praise or condemnation toward the characters.

Have you tried a new app - Beijing Opera Facial Makeup in your iphone? Recently this intriguing game draws lots of people's attentions on Chinese traditional Beijing Opera facial makeup. Now with the app, only several minutes are needed to combine an interesting mask with your photo. But in real life, painting a real mask is quite another thing, difficult and taking a long time. Do you want to have a try?
Beijing Opera Facial Makeup Experience Activity
For promoting Chinese Facial Makeup Art to abroad, ChinaTourGuide.com organizes a very meaningful activity for our visitors when travelling in Beijing. With a chance of enjoying how to paint a traditional opera mask under the direction of Chinese traditional craftsman, our visitors can DIY an unique mask and get deeper understanding of this Chinese traditional art. And this activity has become a new must-do in Beijing and grasp lots of interests from home and abroad.
Two Forms of Beijing Opera Facial Makeup Experience Activity
| | | |
| --- | --- | --- |
| Two Forms of Activity | Activity Location | Features |
| Less than 5 persons | Local family in Beijing Hutong | Better experience for several person, also activity time is shorter than group learning, cheaper price. |
| Group learning | Folk Artist Association | Suitable for a group of visitors, and taught by professional folk artists with a longer time. |
Please notice here to paint an opera mask is painting on a gypsum mould, and you could take your favorite finished product home as a memento. So if you and your travel mates are interested in this activity, kindly contact our trip advisor for detialed information.
| | |
| --- | --- |
| | |
| Demonstrating how to paint a opera mask | Learning how to paint opera mask is usually a summer camp activity for Bejing students. |
Let us know more about Chinese traditional Opera Facial Makeup!
Typical Features of Beijing Opera Facial Makeup
Generally, specific types of facial make-up in Beijing Opera are put on the actors' faces to symbolize the personalities, characteristics, and fates of the roles.Usually, red faces have positive meanings, symbolizing brave, faithful, and wise men. Another positive color is purple, which signifies wisdom and bravery.Black faces, for their part, usually have neutral meanings, symbolizing just brave men; however, they can also represent uprightness.Blue and green faces also have neutral meanings that symbolize the hero of the bush, with the former also hinting at strength and intrepidity.Meanwhile, yellow and white faces have negative meanings that symbolize ferocious, treacherous, and crafty men.Finally, gold and silver faces symbolize mysteriousness, and stand for monsters or gods.
History of Chinese Facial Makeup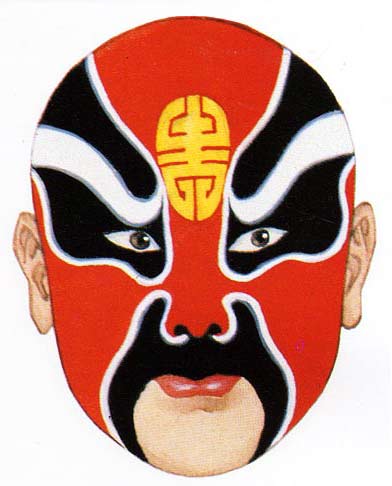 The art of facial makeups in Chinese operas boasts a long history. In ancient China, there was a form of dance called Nuo which was performed at ritual ceremonies to frighten off the ghosts and evil souls and to relieve people of epidemics. Masks were used by performers when they danced. In some areas the nuo ritual ceremonies were later transformed into theatrical performances. Another example of using masks was that of Prince Lanling of the Northern Qi Period (550-577 A.D.). It is said that Prince Lanling excelled in martial arts but was too handsome to terrorize the enemy. So he always wore a ferocious-looking mask in battles in order to overwhelm the enemy. This story was later brought onto the stage in the Southern and Northern Dynasties as well as in the Sui and Tang dynasties (420-907 A.D.). The masks used by the performers at the ritual ceremonies and in the performing art undoubtedly had a bearing on the origination of the facial makeups.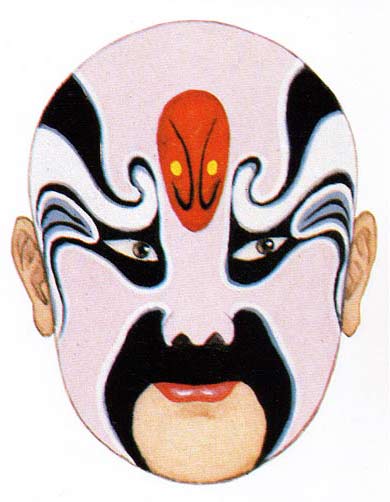 In the Tang Dynasty (618-907 A.D. ) , masks continued to be applied in low comedy, and at the same time artists started to dye their faces in portrayal of super-human beings. In the Ming Dynasty (1318-1644 A.D.), division of roles among actors became more classified on the basis of the Yuan Dynasty (1271- 1368 A.D.) operas and the facial makeups were gradually standardized. In the Qing Dynasty (1644-1911 A.D.), with the springing up of Beijing Opera, the art of facial makeups was increasingly perfected. And toward the end of the Qing Dynasty, the facial makeups for different categories of characters became finalized.