You'll find a selection of great restaurants around almost every corner in Beijing, but some areas have built their reputations on their cuisines.

Steaming-Pot Chicken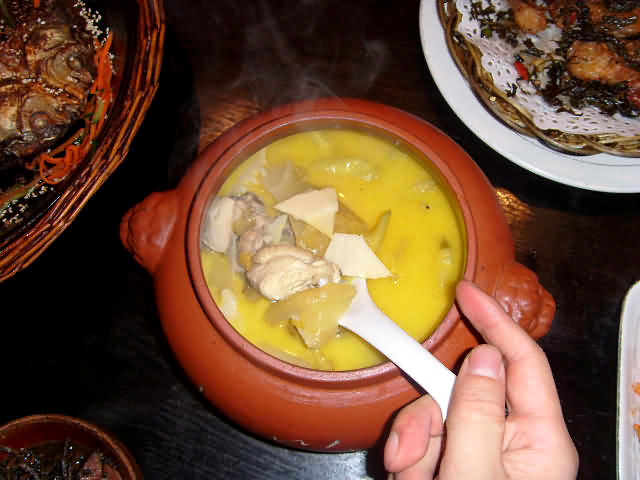 The secret of this famous local dish is the unique design of Kunming 's clay pot: the pot has a shape of water chestnut with a hollow central tube that is the same height of the pot. After chopped chicken, ginger, salt, and other ingredients are added in; this pot is placed in a larger pot filled with boiling water. Then the steam will come out from the central tube to warm the soup in the first pot. In this way, the chicken will be very tender and cooked without damaging its original flavor.
Pickle Sour Fish
This traditional food is normally reserved by the Mosuo and Naxi people for special occasions to treat guests and send as gifts to friends. Though the taste varies from home to home, the fish used are always from Lugu Lake and weigh 250 grams (almost 8 ounces). Whenever a fisherman catches this size, he will place it in a special wooden basin and bring it home. His wife will clean the fish quickly, put it still fresh into an earthen jar, and season it with salt, pepper and cooking wine. When the jar is filled, it is then sealed and kept in a cool place for ten days. After the ten days are up, the salted fish can then be eaten cooked or raw. 
Yak Chafing Dish

Because of the beautiful scenery in the area, many visitors tend to overlook the restaurants. But these people miss out on rare dishes that can 't be held elsewhere. One of these is Yak Chafing. The Naxi people raise yaks on the plateau grasslands free from pollution and artificial hormones. The result is a delicate, tender meat, rich in flavor. This special local dish is the only one in the country featuring yak meat.
Gongbao Chicken

Sometimes called "Tibetan Beer," Barley Wine is a favorite of Tibetans and a necessary part of festivals, marriage feasts, and other important occasions. It is similar to yellow rice wine, which appears light yellow and tastes sweet, with a slightly sour zing to it. The Tibetans toast barley wine to show their respect for honored guests. Many of these toasts are quite elaborate and feature singing as well as a plethora of blessings and good wishes. The person who is being toasted drains their cup when the song is finished. 
Milk Product 
Tibetans have a lot of dairy farms that are famous for their nutritious milk. From spring to winter, the pails of herdsmen are full of fresh milk. People use this to make a number of dairy products such as cheese, butter, and yogurt.
Guo Qiao Rice Noodles

The most famous of all Yunnan food is Guo Qiao rice noodles (literally "Crossing-the-Bridge Rice Noodles "). Rice noodles are made by soaking, steaming and grinding. The process for cooking and eating these rice noodles is quite special. First, make soup with chicken, ham, and bones; ladle the soup in a big bowl, and put some chick fat on the surface. Then heat the fresh meat slices, chicken slices, hams, pig liver slices, fish slices, bean curd, and pea sprouts. Finally, scald the rice noodles prepared in the hot soup and they are ready to eat. Most tables will have plenty of sauces available from which you can pick your favorite kind to add for even more flavor.
Roasted Bean Curd
Roasted bean curd is a favorite local snack. It can be bought at the night market, but he best is made in Shiping County and Jianshui County. Made from high quality soybeans, the bean curd smell often turns people off, but many consider it to be quite tasty. Roasted on a steel net by a charcoal fire, and seasoned with spiced salt water, hot pepper powder, and Chinese ash oil, the snack is crisp and fresh.




Bei Da Men Food Street

Taste food and beverages from every corner of China as themed provincial restaurants are lined up one after another along this eater 's paradise. Snack vendors dish out bowls full of Guo Qiao Rice Noodles and goat cheese. Relatively few international restaurants grace the area, however, and those looking for some American food or French should check out Cuihu for a wider range of options.
Xingyuan Road Food Street
Xingyuan isn't so much a food street as it is a cluster of famous Dian cuisine restaurants. Ten or so well-known Yunnan and minority eateries serve up all the southern Chinese food you can handle. It 's a perfect for those who want to get as much of Kunming cuisine as they can in a limited stay.
Dianchi Road Food Street
Once known only for its proliferation of high-end seafood joints, Dianchi Road Food Street has now given birth to a couple of ethnic restaurants that have done pretty well and attracted a lot of diners. AiNi Mountain Villa is an American-owned Dai cuisine restaurant offering tangy dishes that will make your mouth water for more.
Guanshang Wild Mushroom Street

Guanshang is features a fabulous variety of restaurants, each one spcializing in dishes made from wild mushrooms and rare fungi. These dishes are considered to have many helpful medicinal properties.
Cuihu (Green Lake) Area
This thriving hotel, dining, and entertainment district is brimming with restaurants from every corner of the globe. Surrounding the aquamarine lake are a number of international eateries serving pizza, salads, burgers, pasta, wine, and coffee. This is definitely the place to go for those who want the familiar taste of home.