Yunnan Tour Guide
Because of its mild climate, colorful ethnic minorities, beautiful scenery, quaint towns, and rugged mountains, Yunnan has become one of China's top tourist destinations. There are three typical routes you can choose from when touring Yunnan. When travel in Yunnan, all the routes centered on Kunming, which is the transportation center, are designed for the tourist. All in all then, there are three routes which can be divide into Northwest route, south route and western route.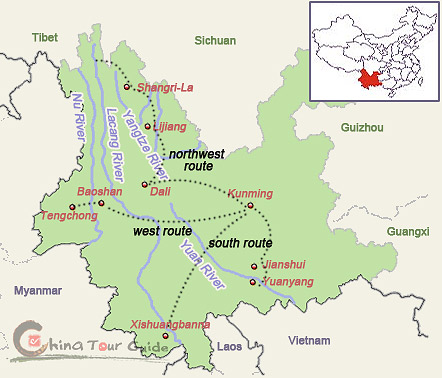 Northwest Route
The most popular route is the north route which highlights all of the famous cities including Kunming, Dali, Lijiang and Shangri-La. There are direct flights and expressways from Kunming to these hotspots, making travel convenient and quick. These four cities will give you a broad view of the different cultures in Yunnan as each is home to its own minorities, culture, history, and architecture. The geography also changes quickly, getting steadily higher the farther north you travel. From Stone Forest in Kunming which represents a typical landform of South China Karst to Meili Snow Mountain in Three Parallel Rivers of Yunnan Protected Area. From the Bai People's unique"Three Courses of Tea" in Dali to Tibetan's Buttered Tea in Shangri-La. From Buddhism Temple - Three Pagodas Temple in Dali to Tibetan Monastery - Songzanlin Monastery in Shangri-La. From peaceful Pudacuo National Park which features lakes and wetlands to roaring Tiger Leaping Gorge in Lijiang. Not to mention that enthusiastic people from every kinds ethnic minorities, all of these created out colorful northwest of Yunnan.
West Route
The west route is centered on Baoshan City and Tengchong City which is still virgin land for toursim. The Burma Road and the Hump route are built during World War II run across this area. Tengchong is famous for its terrestrial heat pool. Drive into the Three Parallel Rivers of Yunnan Protected Area on narrow road along the Nu River Valley to the home of Lisu People whom has a traditional custom that both men and women are bathing together in an open-air pool during Chinese Spring Festival in order to pray for the bless in the next year. Hiking on the original route taken by 19th century French missionaries whom brought Christianity to this remote area and built Catholic churches along the Nu River(Salween River) and Lancang River(Mekong River). There is a more than 126-year-old church in this area and still thriving. With lucky, you will be able to catch the magical chorus that consists of boys and girls. Appreciate the stunning views over the valley with the sound from heaven, it would be your unforgettable moment in your lifetime. But one thing must mention that the tourism infrastructure outside Baoshan and Tengchong including road, lodging and etc are quite basic.
South Route
The south route is becoming popular in the recent years due to Yuanyang Terrace. Set out from Kunming, drive 197 km(122 mi) to arrive in Jianshui City, which is a stretch of magical land with reputation of"famous region with rich culture of Confucian in China". The beautiful scenery of the Red River Valley will give you plenty to look at on the way and the moisture in the air will make you fresh from head to toe. The other hot destinastion is Xishuangbanna, home of Dai People whom are similar to people in neighboring Tailand and Laos. It is surrounded with tropical rain forest, famous for many rare animals and plants.