Yunnan Transportation
Yunnan, home to some of China's most spectacular ancient villages and natural sites, is an extremely popular tourist destination. It has convenient modern transportation facilities. You can get there by train, airplanes or bus. Kunming, the capital city of Yunnan, is also the transportation hub of Yunnan.
By Air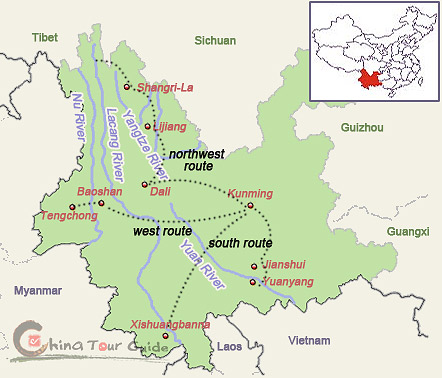 Kunming Changshui International Airport has been put into operation since June 28th, 2012. It replaced the former Kunming Wujiaba International Airport and became China's 4th national hub airport after the airports of Beijing, Shanghai and Guangzhou. Presently, there are 17 airlines companies in the airport providing flights to domestic cities and international cities and regions, including Beijing, Chengdu, Guilin, Lhasa, Shanghai, Sanya, Xian, Hong Kong, Kuala Lumpur, Singapore and Bangkok, etc. Passengers can easily get to the city by air.

Changshui Airport to Kunming City Center:
Taxi costs about CNY15
By Train
Getting around China by train or bus is the most common way to get to most cities. It is recommended that visitors be cautious about their belongings and personal safety while using these two modes of transportation. Kunming has two main train stations. The Kunming Railway Station is located on Beijing Xi Lu Street and can be reached from the city center by bus lines 68, 80, and 23. It is the one most commonly used by visitors because most of the trains that go to places outside the region begin at this station.
By Bus
The Kunming North Railway Station is useful for visitors who wish to go to Vietnam. A train departs to Hanoi every Friday and Sunday. Kunming also has four bus stations. The South Bus Station which is across the street from the Kunming Railway Station is the most useful of the four for visitors. It has busses to most of the regions destinations. There are two basic kind of busses, Regular and Speedy. The Regular busses are slower and their condition is not as good as the Speedy ones.

Kunming to Dali: Bus costs about CNY100-150 and 4 hour;
Kunming to Lijiang: Bus costs about CNY180-200 and 8-9 hour;
Dali to Lijiang: Bus costs about CNY39-78 and 4 hours;
Lijiang to Shangri-la: Bus costs about CNY38-48 and 4 hours.
Top