Yunnan Regional Guide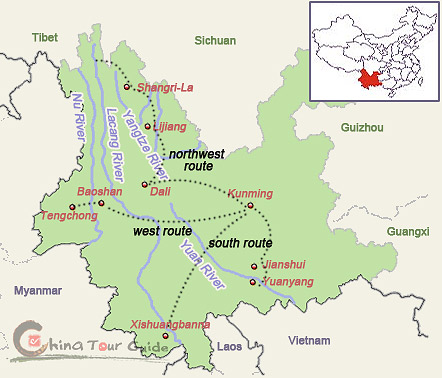 Yunnan (literally means"South of the Clouds") is a province in most southwestern China, sharing a border of 4,060 km (2,523 mi) with Burma in the west, Laos in the south, and Vietnam in the southeast as well as the Chinese provinces and regions of Guangxi, Guizhou, Sichuan and Tibet.

From snow-capped mountains to true tropical environments, the average altitude of Yunnan is 1,980m (6,496 ft). The mountains are highest in the Northwest where they reach more than 5,000m (16,404 ft).
Kunming - Provincial Capital
Kunming, the capital of Yunnan province, is a common destination for both domestic and foreign tourists due to its pleasant weather, intriguing highland scenes, and long history. Since it stands at an altitude of 1,895 meters (6217 ft.) with an average temperature of 15.1 Celsius, it is little surprise it has been titled "the City of Eternal Spring". Although Kunming is not the final destination for many travelers arriving in Yunnan, it has a lot to offer. To get a feeling for the rich cultural and historical heritage there, the Golden Temple Park and the Bamboo Temple are essential stops on any visitor's itinerary. The city also boasts numerous natural attractions such as the awe-inspiring Stone Forest, Dianchi Lake, Cuihu Lake, Western Mountain, Jiuxiang Scenic Zone, and the Grand View Park. The city is also an ethnic hotpot, with a cultural blend of 26 distinct minority groups, each with its own special festivals and traditions.
Lijiang
Located in the northwest part of Yunnan Province, Lijiang is composed of a new town and an old town. Most visitors traveling to Lijiang spend their time touring the vast spider-web of alleyways and shops in the old town, which was listed as a UNESCO World Heritage Site in 1998. With its narrow winding alleyways and ancient Chinese architecture, Lijiang has managed to retain much of its historic charm and is one of the most popular tourist destinations in Southwest China. Several ethnic minorities have called the area their homeland for millennia and played a leading role in the area 's cultural development. These include the Naxi, Yi, and Bai peoples. The Naxi are a matriarchal society and are the subject of much interest among Chinese and foreign tourists. In addition to the historical and cultural attractions, the natural beauty in the area is hard to beat. Jade Dragon Snow Mountain is just a short ride from the city. It is the site of the southernmost glacier in the Northern Hemisphere. A lift can take tourists almost to the top of the mountain to see the glacier up close and catch a breathtaking panoramic view of the entire valley. The lift ride itself is well worth taking a field trip to the mountain.
Dali Bai Nationality Autonomous Prefecture
Dali Bai Nationality Autonomous Prefecture has one city and 11 counties within its jurisdiction. Its prefectural capital is Dali City ( including Xiaguan city and Dali ancient city ). There are four scenic areas in the Dali region, including the Cangshan Mountains, Erhai Lake, Butterfly Spring and other historic relics ( in Dali City ), Jizu Mountain ( in Bingchuan County ), Shibao Mountain ( in Jianchuan County ) and Weibao Mountain ( in Weishan County ). Among those areas, Dali City attracts the largest numbers of Chinese and foreign visitors. Dali Ancient City is widely acknowledged as "Backpackers' Paradise" in China. Foreign visitors like to stay in Dali ancient city.
Shangri-La (Zhongdian)
Shangri-La, previously known as Zhongdian, is a small, primeval Tibetan town located 5-hours-drive north of Lijiang, Yunnan. In Tibetan, "Shangri-La" means the "sun and moon in heart," a literal heaven on earth. Perched on a plateau at an elevation of 3300 meters and located in the midst of three rivers, Shangri-La is a sacred scenic region blessed with majestic mountains. Dotted with beautiful hills, flowers and alpine lakes, the region of Shangri-La offers superb possibilities for trek and botanical exploration. Shangri-La is inhabited by many different ethnic groups, with the Tibetans comprising the majority of the population. The picturesque Tibetan villages on the outskirts of Shangri-La still keep unique customs and traditions, attracting many travelers. It is therefore a great opportunity to discover the Tibetan culture if you cannot make it to Tibet.
Yuanyang
Yuanyang County is about 326kms south away from Kunming, famous for its rice terraces, which was once crowned as one of the China's 17 most attractive scenic places. Yuanyang Rice Terraces regarded as the largest and most spectacular in the world. It's crafted out by the Hani people one thousand years ago and now is masterpiece of the ingenuity of Hani people. Based on the landforms of mountains and the local conditional, the Hani people push up the hill sides with different shape and size. After generations' development, nowadays, the rice terrace in large scale and still in using. Also become a famous tourism place of Yunnan.
Jianshui
Jianshui is located in southeast of Yunnan, 220kms southeast away from Kunming and 117kms northeast away from Yuanyang. It has over 1,200 years long history, and full filled with culture heritages from the ancient time. Jianshui is famous for its old-style architecture, friendly folk and dizzying array of historic sights. It keeps a village atmosphere, with old streets and some traditional houses, located all around the city, and especially around the Chaoyang Gateway Arch in Jianshui Old Quarter. Confucius Temple, right in the center, is the second biggest temple dedicated to Confucius in China.