Suzhou
Famed as the "Venice of the Orient", Suzhou is renowned for its beautiful Grand Canal, pagodas, and classical gardens. Located next to the China No.1 metropolis Shanghai and quite close to another famous tourist paradise Hangzhou, Suzhou has been one of the most popular destinations in Eastern China.

At present, more than sixty classic gardens are maintained in Suzhou, and a number of them, including the Humble Administrator's Garden, the Lingering Garden, the Master of Nets Garden, and the Lion Grove Garden, have been listed as UNESCO World Heritage Sites. For its special beauty and rich culture, Suzhou provides artists, scholars and painters a pleasant retreat to seek inspiration and to relax. Not far from Suzhou there are dozens of well-preserved water towns with history of hundreds of years. Visitors should not miss seeing the wonderful sights of such villages like Zhouzhuang Water Town and Tongli Water Town.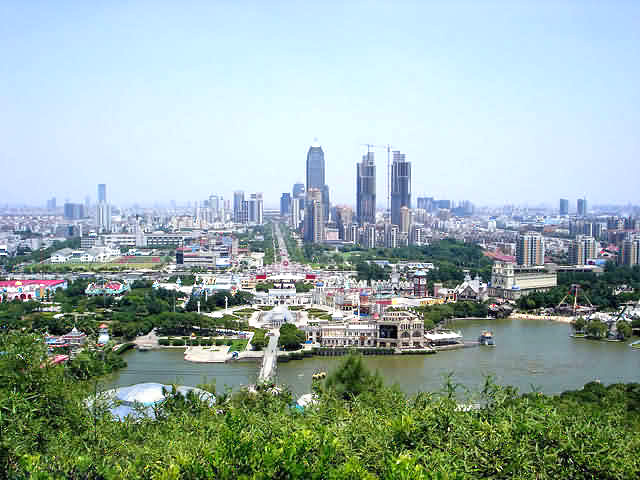 Suzhou is one of the oldest cities in China, founded in about 600 BC as the capital of Wu Kingdom. For 2,500 years Suzhou has miraculously kept the basic layout of its old town area. When the Grand Canal was accom-plished, Suzhou has developed into a prosperous trading area and the center of China silk industry.

Suzhou has been honored with loads of titles like City of Classic Gardens, City of Literates, City of Silk, Heaven on Earth. The long history of Suzhou city has left behind many attractions with beautiful legends. The elegant classical gardens, the old fashioned houses and delicate bridges hanging over flowing waters in the drizzling rain, and the exquisite arts and crafts have made Suzhou a renowned historical and cultural city full of poetic charm.
Getting to Suzhou
By Train

Suzhou is conveniently located on the Jinghu Railway linking Shanghai and Nanjing, the provincial capital, to both of which there is hourly railway service. Suzhou Railway Station is among the busiest passenger stations in China, having 139 trains stopping daily. T-Trains (fast trains with a T before the train numbers) only take 45 minutes to Shanghai and an hour and half to Nanjing.

By High-Speed Train
High-Speed Train is the newest and fastest way to travel to Suzhou from Shanghai, Hangzhou and many other cities of the Yangtze River Delta. Now Suzhou boasts 4 high-speed-train-available stations, namely Suzhou Railway Station, Suzhou North Railway Station, Suzhou Industrial Park Station and Suzhou New District Station.


By Air
Suzhou doesn't have its own international airport at present. However, with the neighboring metropolis Shanghai, the air transportation for Suzhou is actually quite smooth with two airports for you to choose from: Shanghai Hongqiao International Airport and Shanghai Pudong International Airport. Hongqiao Airport is 86 kilometers (about 53 miles) away from Suzhou. Every day shuttle buses run between Shanghai and Suzhou. The whole journey takes about one hour and forty minutes. You can also get to Suzhou by flying to Pudong International Airport, which is located 120 kilometers (about 65 miles) away from Suzhou.

By Coach
There are four long distance bus stations having services to the nearby cities and beyond. There are plenty of buses heading to Shanghai, Hangzhou, Wuxi, Zhouzhuang, Tongli, to and from Suzhou.

By Ship
Boat travel along the Grand Canal from Suzhou to Hangzhou has become increasingly popular due to the amazing country scenery witnessed during the journey.

Getting Around in Suzhou
By Bus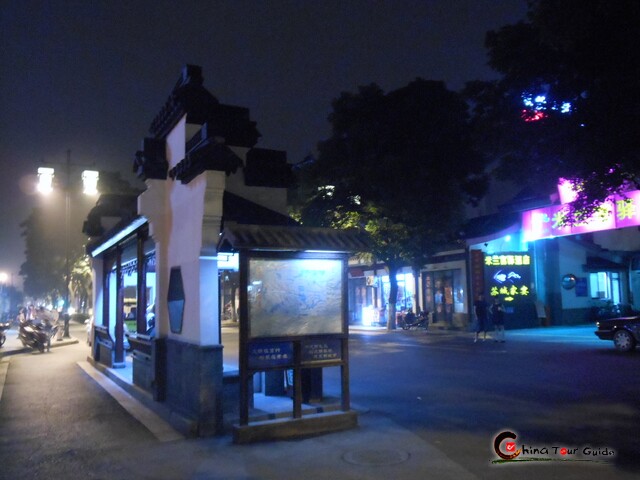 At present 80% of Suzhou buses are air-conditioned and only 20% are without air condition. For an air-conditioned bus the bus fee is usually 2 Yuan and for for a non-air-conditioned one 1 Yuan. In 2014, all the non-air-conditioned buses in Suzhou will be eliminated.
Top
By Taxi
There are lots of taxis looping the city so there is usually no problem to flag one down to stop for you. The starting price is 10 Yuan for 3 kilometres, over 3 km, 1.8 Yuan/per km for a Santana and 1.4 Yuan/per km for a Xia Li cab.
Top
By Metro
The Line 1 of Suzhou Metro opened to the public on April 28, 2012. The 24-station metro shuttles through 6 districts of the city. During rush hours, it's a good choice to get around in Suzhou by metro.
Top
By Bike
The easiest way to tour around Suzhou is by bike. Pedaling from garden to garden is pleasant. This is a very popular way for tourists to explore the gardens. Most of the stores that rent bicycles for visitors are located east of Suzhou Railway Station. But be minded that you'll need to leave a deposit and show your identity card when you rent a bike.
Top
By Rickshaw
These man-powered vehicles are a good and cheap way to get around the old town of Suzhou. You can usually negotiate the price when taking a pedicab.
Top
Recommended China Tours with Suzhou