Siheyuan Culture
The history of Siheyuan (courtyard house) in Beijing can be traced back to more than 800 years ago when Beijing established its status as the capital city. As a kind of traditional Chinese relic, Siheyuan represents the capital's architectural style.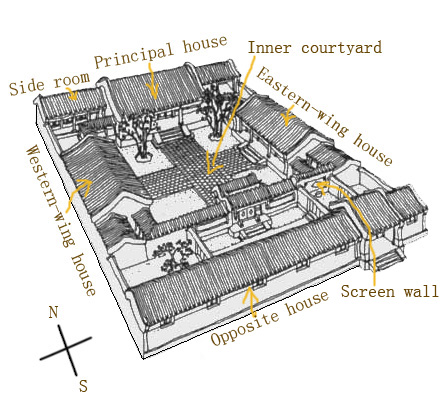 The sketch map of a small siheyuan
In Chinese, Siheyuan means the term "quadrangle", and takes the courtyard as its nucleus, which is surrounded by four houses--a principal house (facing to south mostly), an opposite house, an eastern-wing house and a western-wing house. The construction of Siheyuan explains characteristic features of Chinese people and the strict hierarchical system of ancient times, and emphasizes Fengshui (Chinese traditional theory of geomancy). The whole structure of Siheyuan is symmetrical and enclosed from four sides with privacy and confidentiality, keeping one gate towards outside which is highly suitable for a family to live in and can be protected from exterior intrusion. Given by this point, this structure represents the typical characters of Chinese people--introversion and quiet manner. Besides, in hierarchical society, the principal house is inhabited by the head of family, and his or her eldest son lives in eastern-wing house, which is believed to be superior to western-wing house. Usually, the opposite house, also named reversibly-set room, is given to servants as their quarters, while under some special circumstances like a spinster-daughter, a divorced daughter or a widowed daughter-in-law who had never given birth to a son, all of them have to be ordered to live in opposite house. Therefore, the arrangement of residence is totally based on the rules of hierarchical system, aims to keep the order of family members' status.

Several peculiar bird-cages of old Beijingers hung in a courtyard.
An old man is reading newspaper quietly and intently sitting on the side of the hutong.
Undoubtedly, Siheyuan is a mirror of Chinese culture, reflecting the sense of belongs in the mind of Chinese people. The big gate is painted in red, because red symbolizes luck and happiness. During the traditional festivals, gatepost couplet is put on the gate. Moreover, a pair of red lanterns is commonly seen in many large-scaled Siheyuan. Behind the gate, a large screen wall appears as an important decorative part of Siheyuan. Visitors will find the carefully and meticulously carved wall surface and the auspicious eulogies on the screen wall once they go in or out of the gate. In the center of Siheyuan, the courtyard is planted with trees and flowers with two stony paths leading to the houses of each side. Usually, a goldfish pool and a marble table are set in the yard, and birds stand on the rooftop and sing. Siheyuan is a small cosmos and a paradise for residents who can enjoy a wonderful outdoor life here. No wonder so many people are keen on Siheyuan.
Indeed, to know more about Chinese culture and traditions, visiting Siheyuan is a smart choice for you. Staying in the Siheyuan, learning how to make dumplings and enjoying a local Chinese life, you will get unforgettable experience here.