You'll find a selection of great restaurants around almost every corner in Beijing, but some areas have built their reputations on their cuisines.

Guizhou Hotpot

Featuring peppery, spicy and sour tastes, Guizhou cuisine offers a large variety of hot pot options, such as Huajiang Dog Meat Hot Pot, Kaili Fish Hot Pot with Sour Soup, and Guiyang Green Pepper Young Chicken Hot Pot, each having its own strong local flavor. Guizhou hot pots enjoy a high reputation in the country because of meticulously selected ingredients and seasonings, and a unique smell. After the pot is boiled, a sweet smell greets people. Be sure to try Bean Hotpot. Just as with other hotpot styles, you choose whichever ingredients you want and cook them at your own pace. The difference is in its soup of pinto beans, bacon, and onions. You should get a bowl of spices that you can mix with the soup base for dipping.
Sour Soup Fish

It is a famous Guizhou cuisine and the unique food of the Miao people. The dish is sour, spicy and appetizing. Add pepper, the specialty and much local nutritive Chinese herbal medicine, use tomato to be sour, and then put the clean fish in the pot to boil it. You will have a little plate with kinds of delicious sauce including soy sauce, pepper, ginger, red pepper oil, sesame seed oil, preserved bean curd. With bright golden red color, this dish tastes mellow and a little hot sweet with a unique fragrance.
Gongbao Chicken
This dish got its name from Ding Baozhen (1820-1886), a famous figure inthe history of Guizhou, who was the first one cooking the diced chicken with hot pepper. Ding Baozhen was once conferred the title of "The Tutor of the Crown Prince" which is Gongbao in short. Hence, the name of the dish.
Leis Bean Curd Balls
This bean curd balls are a kind of time honored flavor snack in Guizhou. The fried balls are crisp and brownish outside and tender and soft inside. Having it together with the sauce of hot pepper powder, soy sauce, sesame oil, vinegar, pepper and chopped green scallion etc., you will find it smooth and appetizing.
Chang Wang Noodles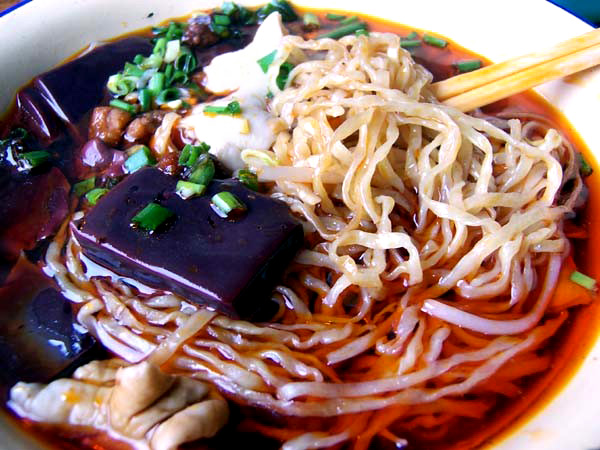 Changwang Noodles are made of noodles with eggs and the favorite breakfast for people in Guiyang. After being boiled in water, scooped up and put into the chicken soup, the noodles are decorated with some pieces of cooked pig intestines, blood curd, crisp pork dices and hot pepper oil on the top. Thus the noodles look so colorful with bright red soup, yolk-yellow noodles, white intestines, tender green scallion and fresh bean sprouts. It has a lingering taste with the fried diced meat crisp and savoring, the intestines and blood curd soft and tender, the soup very delicious, but not too hot nor oily.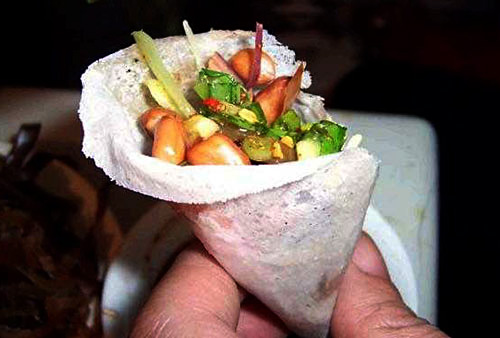 "Love" Bean Curd
As one of the popular snacks, "Love" Bean Curd is a small piece of bean curd roasted on an oiled iron sheet or wire mesh over chaff fire. When roasted brownish and oily, it is cut open and stuffed in the sauce of hot pepper, soy sauce, vinegar, sesame oil, garlic and ginger. Eat it hot, and you 'll find it tender and tasty.




Siwawa
It receives its name because various kinds of "Shreds" are wrapped up within a piece of small thin pancake. Put a handful of shreds of kelp, radish, bean sprouts, preserved cabbage, fried soybeans, etc. in it. Then the cake is rolled up and put in some sauce.