Guizhou Regional Guide
Guizhou is a province situated in southwest part of China, it boasts picturesque landscapes, pleasant climate and varied and rich tourism resources; hence it enjoys a reputation of being the "tourism treasure house of China".

Guizhou is one of the most typical areas with the karst landscape in the world, and its karst terrains account for 73 percent of its total area. Its special geological form and special geographical conditions have given birth to the karst features integrating mountains, rivers, waterfalls, caves, lakes and forests.
Guiyang - Provincial Capital
Guiyang is the capital of Guizhou province, located in the central part of Guizhou. It was listed as the first "national forest city" of China, the forest belt covers an area of 100,000 hectares. With charming rivers and lakes, picturesque mountains, secluded valleys and karst caves, Guiyang is a beautiful mountain city, which covers an area of 8.034 square kilometers and has a population of 3.5 million. With its landmark Jiaxiu Tower, Guiyang is known as a "Spring City" and it is an ideal summer resort. The weather is neither cold in winter, nor hot in summer, with an annual average temperature of 15.6 °C.
Qiandongnan Area, Southeast of Guizhou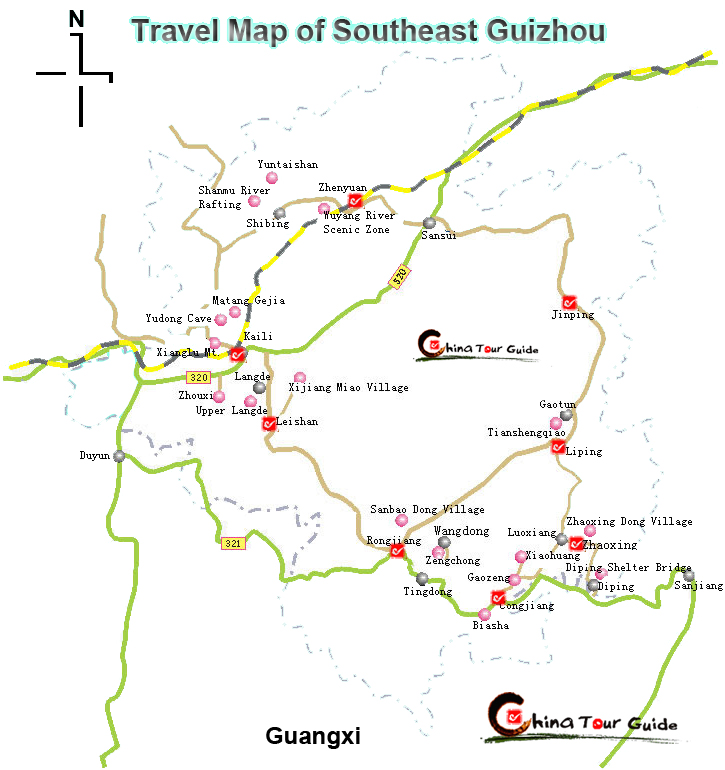 Located in the southeastern of Guizhou Province, Qiandongnan Area, short for Qiandongnan Miao and Dong Autonomous Prefecture, neighbors Qiannan Buyi and Miao Autonomous Prefecture, Zunyi City and Tongren Region within the province. It is also bounded on the east to Hunan Province in the neighborhood of Guangxi Zhuang Autonomous Region in the south. ChinaTourGuide concentrates on most popular travel routes covering this area, so as to offer the essence of colorful Guizhou minority culture. The capital city of Qiandongnan Area is Kaili. Our tour starts from here, and extends to Leishan county, Congjiang county, Rongjiang county and Zhaoxing county, etc, visiting many distinctive minority villages, such as Xijiang Miao Village, Langde Upper Miao Village, Biasha Miao Village and Zhaoxing Dong Village.
Anshun
As the center of tourism for the western part of Guizhou, Anshun city is situated to the east of Yunnan-Guizhou Plateau in the mid-western part of Guizhou Province. Giving you easy access to Huangguoshu Waterfalls and Dragon Palace Cave, Anshun is set in an amazing karst limestone region. Less popular than Qiandongnan Area, Anshun also presents traditional minority cultures that definitely inspires you. Moreover, Anshun once was an important centre for tea and opium trading, still remains the commercial hub of western Guizhou.