Guizhou Transportation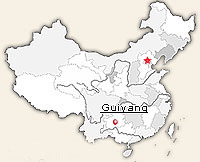 Commonly if you want to travel to Guizhou, the first destination you will reach is Guiyang, the capital city of Guizhou. Now Guiyang can be reached conveniently via air, train, or coach from other major city, such as Beijing, Xi'an, Shanghai and Guangzhou. For visiting the minority communities in the southeast area of Guizhou (the central city is Kaili), it is also easily accessible, as a comprehensive highway network has recently been to connect almost every village. So the most regular travel route is to take a plane or train to Guiyang, and then take a bus to Kaili or Anshun, at last reach your favorite minority villages or tourist attractions. Also, you are highly suggested to our caring one-stop travel service to start an wonderful worry-free Guizhou tour.
By Air

There are several airports throughout Guizhou province, but most of them remain unavailable or with very limited flights now, like Huangguoshu Airport in Anshun. And the most useful and the biggest airport is Longdongbao International Airport, located 11 kms southeast from Guiyang city center. Longdongbao International Airport is connected to more than 40 domestic cities, such as Beijing, Shanghai, Guangzhou and Hong Kong. Before the opening of this airport, travelers had to take the time-consuming coach over mountains to reach the region, but can now do so quickly by plane.

Longdongbao Airport to Guiyang City Center:
Airport Bus costs about CNY10
By Train
Train is the main means of transportation in and out of Guizhou province. By train, travelers can conveniently reach almost every major city in China. Guiyang acts as the transportation center of Guizhou Province. Four railways pass through Guiyang connecting to Chongqing, Chengdu, Liuzhou and Beihai, Kunming, extending to all the major cities such as Beijing, Shanghai, Nanjing, Hangzhou, Guangzhou, and Wuhan. Within Guizhou province, tourist trains run between Guiyang, Kaili, and Huangguoshu.
By Bus
The highway network throughout Guizhou Province is quite well-developed and visitors should easily be able to find coaches to any of the areas they wish to visit in Guizhou. As the transport center of Guizhou, Guiyang runs a very important bus terminal station - Jinyang Bus Station, and most of long distance buses starts or ends there. But for unique remote villages, it is wise to use our service to tailor make your itinerary with home stay and private car.

Guiyang to Anshun: Bus costs about CNY15-60 and 2 hour;
Guiyang to Huangguoshu Waterfalls: Bus costs about CNY30-40 and 2.5 hour;
Guiyang to Kaili: Bus costs about CNY29-60 and 2 hours;
Guiyang to Zunyi: Bus costs about CNY25-45 and 3 hours.
Top